How to Design An Outdoor Trash Bin?
Views:162 Author:Site Editor Publish Time: 2019-09-28 Origin:Site


Trash can
s are seen very commonly in life. We can see
outdoor trash can
s on the square, school, hospital, and other outdoor places.
Generally,
outdoor trash can
s will clearly classify garbage. There are two buckets, one with red words to indicate non-recyclable garbage, another is with green words to indicate recyclable garbage. This is also a positive performance to promote resource recycling. When throwing garbage, for some paper garbage, wooden garbage bins or some beverage bottles, etc., which can be recycled and reused, we can thrown them into the trash can directly because they can be recycled. But if it is some Plastic bags or other garbage that cannot be recycled, they should be thrown into the trash can without recycling.
So how can we design an outdoor garbage bin?
Introduction
Our common trash cans are often made of one material, but outdoor trash cans are not. They are mainly divided into steel parts and wooden strips. The entire frame of the trash can is made of steel. It is rust-proof and anti-corrosion operation on the steel surface at the time of production. The wooden strips used in the outdoor trash cans are not made of ordinary wooden strips. The wood strips of each outdoor trash can need to have certain specifications, and the wet wooden strips cannot be made into trash cans. Before the production, the wood strip of the trash can should be dried, and it needs to be sprayed for aesthetics. Besides, some burrs on the surface of the strip need to be smoothed.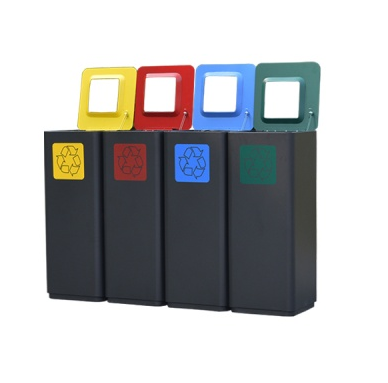 Normal Design Requirement
1. It should have at least two kinds of outdoor trash to receive different types of garbages.
2. It can be suitable for the outdoor environment. For example, it should have corrosion resistance. Because in the outdoor environment, the foods which were thrown are easy to rot. And because of it, the trash bin may breed bacterias. Which will affect our health.
3. It should be easily moved by the cleaners. Because the outdoor trash bin always be too heavy to move, avoiding cleaning.
4. It should be large enough to receive. If it is not large enough, when we throw garbages, they will be easily thrown out of the bin, which will influence the environment.
An Example of How to Make A Steel Outdoor Trash Bin
The whole is made with an high quality cold rolled steel sheets and formed by bending to bending at once time. The products are all sprayed with outdoor powder electrostatically. After 180° high temperature, the limit use life will extend the service life of the trash can, and the color of the trash can will last forever. The bright new surface will be degreased - cleaning - pickling - cleaning - tuning - Phosphating - Cleaning - Drying - Electrostatic powder coating - High temperature plasticization – Cooling. And the spray powder is certified by ISO9002 quality system. It has the advantages of smooth surface without peeling or layering.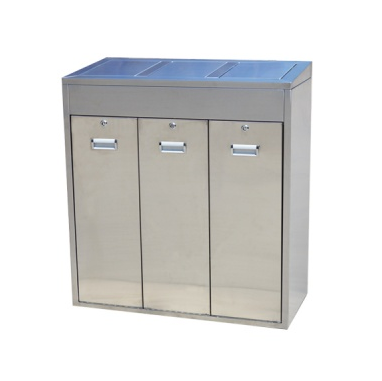 Now, do you know how to make an outdoor trash bin? If you have ideas, you can share with me under this article.